What is it exactly? The people who first noticed it were immediately puzzled by its appearance. It's not that they couldn't recognize it as a mushroom, but it was a big mushroom, made out of fiberglass or acrylic, as if it's a new species of fungi evolved in response to its urban loci. Or maybe it was some kind of secret phallic worship? Why was it designed like this? If it was just another chimney, why did it not look like a chimney?
None of these questions have ever been officially addressed, that's for sure. Nowhere. All the official websites, travel pamphlets about Beijing have never mentioned this giant mushroom. Not a hint of it can be found.
Some clever people connected it with the underground. Maybe it is connected to the subway, they guessed. Based on their understanding, the subway is the underground network. The mushroom grows out from the ground, so it must be connected with something from the underground. Unfortunately, this hypothesis does not explain the smoke that comes out of the big green crown in winter nights. It is impossible that there would be smoke or steam coming from the Beijing subway. They couldn't provide an answer.
At some point in history, the urban planning of Beijing was influenced by Soviet aesthetics, which to a great extent has become the foundation of Beijing's aesthetic. It may be worth noting that, in some of the Russian legends, mushrooms are believed to be animals. They quietly move across the earth, following their own logic, which humans not yet understand. Since it is unrecorded what time the giant mushroom appeared, nobody knows if they are a left-over from a soviet influence on the city: it's giant, and it might be quietly patrolling around.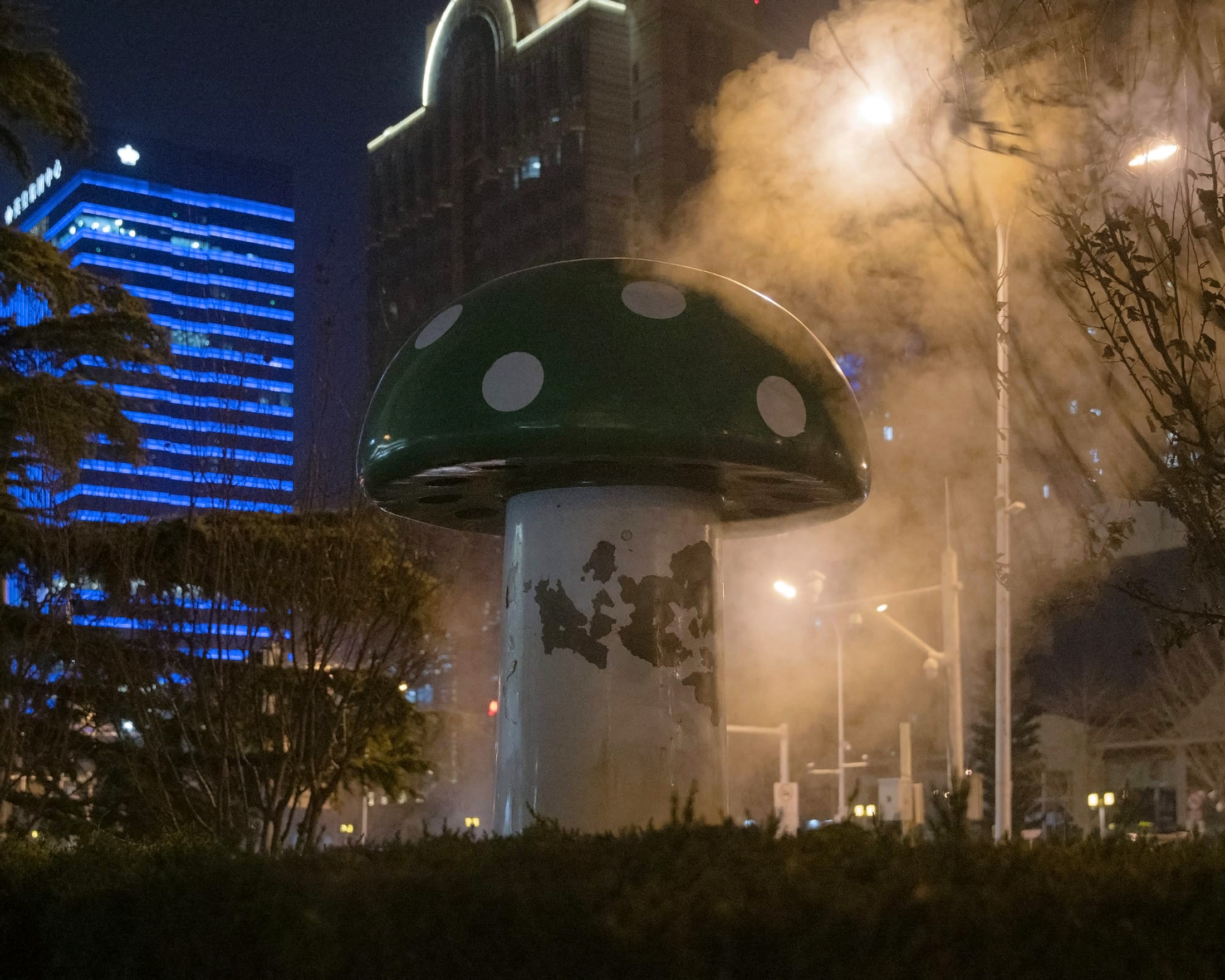 By mid-November of every year, the myths of the Beijing mushroom culminate. Smoke gushing out or sometimes just sporing in the deep winter's night and reawakening the addiction of this ancient city.
It seemed to Marcovaldo that the grey and miserable world that surrounded him had suddenly become generous with hidden riches, and that he could still expect something from life besides the hourly wage provided by his contract, the emergency fund, family allowances and the bread subsidy.
Finally, there was a mushroom hunter, a very curious one, who finally decided to go through the mist, when it rose again from the giant mushroom endlessly, leaving no solid clue in the air. The mushroom hunter stepped onto the flowerbed and got closer to the crown, immediately, he was overwhelmed by heat.
The mushroom hunter retreated with an answer—the Beijing mushroom was thermally active.
This mushroom hunter, or should we call him the mushroom finder, prefers to remain anonymous. "It feels like hell," he summarised the experience, as well as the smell of sulphur.