In the construction process of cities, ideas and thought experiments are just as essential a part as steel and concrete are.

Beijing22 Talks #2:
Science Fiction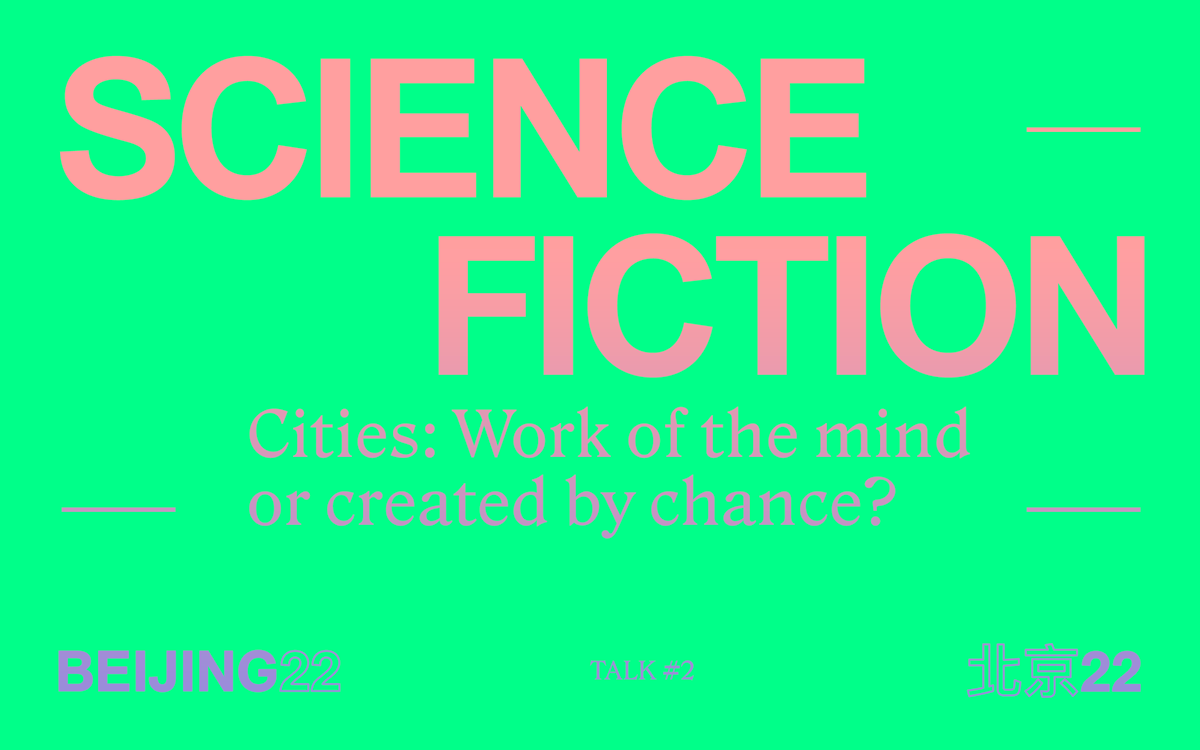 Workof the mind or by chance?
Organizer:Goethe-Institute China, Beijing22
Date:June 9th 2018, 14:00 - 16:30
Place:Goethe-Institut China, Originality Square; 798 Art District, Jiuxianqiao Road 2; Chaoyang District, Beijing
Guests:Wang Kuan (architect, sci-fi writer, artist), Ying Hong (professor at the Tsinghua University Architecture Faculty)
Moderation:Han Tao (School of Architecture, Central Academy of Fine Arts)
Language:Chinese, English
Admission:Free

"Cities also believe they are the work of the mind or of chance, but neither the one nor the other suffices to hold up their walls. You take delight not in a city's seven or seventy wonders, but in the answer it gives to a question of yours. or to the question it asks you, forcing you to answer." Italo Calvino, Invisible Cities, Chapter Three

Stories, dreams and myths create connections between people and places, they make space tangible and can arouse the desire to settle them. In the construction process of cities, ideas and thought experiments are just as essential a part as steel and concrete are. In this sense, science fiction can also serve as a basis to get to the bottom of the future of our cities. Against this background, we would like to invite you to the Goethe-Institute Beijing for a discussion on June 9, 2018 as part of the "Beijing22" project. Science fiction writer Wang Kuan, urban planner Long Ying and architecture professor Han Tao will enter a dialogue to jointly develop ideas for an urban future.

The conversation will cover topics such as: where does fiction start, where does it end? What is it that makes Utopia, despite its often questionable applicability, still such a desirable subject of discussion and debate? Should urban planning deal more with current urgencies or focus more on promoting the development of new ideas that will benefit future generations? Could the synergy of science fiction and classical urban planning create new opportunities? The discussion will be followed by a presentation by the artist collective "Sponge Gourd". They will tell us about the experiences of their first road trip through the Jing-Jin-Ji region.

Wang Kuan is an architect, science fiction author and artist. He is senior architect of the Beijing Urban Construction Design & Development Group Co. and head of the "Kuan Architecture Bureau". In 2018, for the first time, he introduced his own concept of the "fourth dimension" to the investigation of physical and imaginary spaces. On the basis of this theory, he tries to unify the field of virtual space design, scattered in the subdivisions of philosophy, art, science, technology, film, gaming and internet, into a scientific discipline and to integrate it into a new field. In 2017, he received the "Next Landmark Award" at the 13th Architecture Biennale in Venice and in 2016 he won the German "Red Dot Award" in two categories. He is also project leader for both the 2022 Winter Olympics Information Center in Zhangjiakou (Hebei) and Beijing Park at the 2019 World Garden Exhibition.

Long Ying is currently working as Associate Professor at Tsinghua University's Faculty of Architecture. His research focuses on urban planning, quantitative urban research and applied urban modeling. Long Ying the founder of the "Beijing City Lab" (BCL www.beijingcitylab.com), an open platform for quantitative urban research. He has published more than a hundred scientific papers and has led more than twenty research and design projects. More: beijingcitylab.com/longy

Han Tao is an architect and researches on apparatus, mechanisms and installation. He is Associate Professor and Director of the Postgraduate Program at the Faculty of Architecture of the Central Academy of Fine Arts (CAFA) in Beijing, Deputy Secretary-General of the Committee of Architectural Art of the Chinese Artists Association, and Founder and academic director of the Beijing-based research institute.